Today marks one year since Gordo died. He was cremated and I planted tiger lilies (given to me by a thoughtful and knowing friend) above the place in our yard where I scattered the ashes. The flowers bloomed and then died, and I fretted until my friend told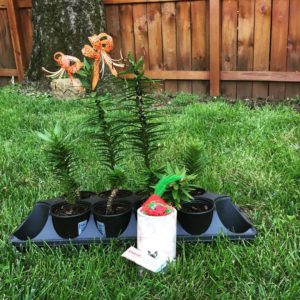 me they would grow back again the next season.
One day recently, Ian started to accidentally mow over the burial spot and the lawn mower—which is electric and had full batteries—sputtered and stopped working. "Gordo says hi," he told me later.
The flowers are growing again now, and should bloom soon.
In the year since Gordo died, I've thought about him often. Every day, most likely, since I see things all over the house that remind me of him. I almost started crying when I opened a box of Band Aids recently—peeling off their wrappers would cause him to come running from wherever he was and he would beg to be able to eat the paper.
At first I wasn't sure how I'd sleep, since every night for nearly 16 years he would curl up under my chin and purr me to sleep, but soon after he was gone BK started sleeping where he used to. She tried to be sneaky about it at first—she'd climb into bed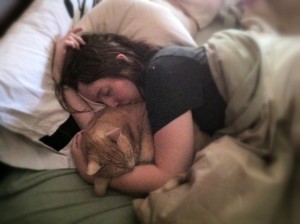 and get between Ian and me as usual, but when I would wake up in the morning she'd be on my right side, snuggled up to me and my pillow just like Gordo used to. (Well, almost. She's not super into being spooned like he was.) Now, though, she is pretty obvious about what she's doing and many nights she'll immediately settle down next to me and start purring. I'm not sure if she set out to intentionally comfort me, but it worked. It still works.
I don't see him in Dragon (what we finally settled on as a name for the male foster kitten we ended up adopting) at all, which is a relief. I was so afraid I was subconsciously trying to replace him by adopting another male ginger cat, but he's pretty much the exact opposite of Gordo. He's a kinetic ball of energy, and is both skittish and brave at the same time. He isn't too fond of people, but he loves BK and King Boo and Stella is his best friend. He's not super cuddly, and I don't think I could ever hold him long enough to cry into his fur, but he brings a different joy and energy into the house.
And this morning, I woke up with both him and BK sleeping next to me.
I knew the feelings of hollow sadness wouldn't last forever, but it's a relief to have made it a year and be able to think back easily and sweetly of the time I spent with Gordo. He was one cool cat who lived a good, long life. So rest in peace, old buddy. I'll be drinking in your honor today.