Two months ago, I overestimated myself.
Ian and I agreed to foster two neighborhood feral kittens until they were old enough to be spayed and neutered and adopted out, and I thought, "Oh sure, it's too soon for us to get another cat so it won't be a problem. I'll find these siblings a nice home with some nice folks and everything will be fine."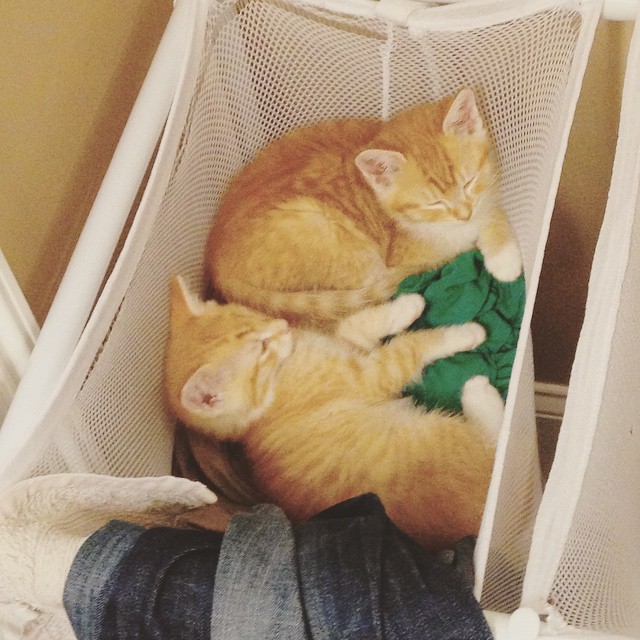 At first, we were only supposed to keep them for a week. Just to help out a neighbor who was overwhelmed with foster kittens. But then I went to Chicago for a week with Stella and Ian agreed to keep the kittens even longer.
That should've been my first clue.
Eventually they gained enough weight that they could be fixed, and then it was time to try to adopt them out. My neighbor and I brought them to a high-end pet supply store to talk to customers and hopefully find them homes with people who spend hundreds of dollars on pet food every month, and we found a man who wanted to bring home a kitten for his hyper dog to play with. I was skeptical, but the people who worked at the store knew him and said he was very good to his pets and would provide Rafi, the boy kitten, a great home.
I walked him out to his car with the kitten and wouldn't let go of his car door. I gave him my phone number and pleaded with him to call me for any reason, and told him that he could bring the kitten back at any time—no questions asked.
That should've been my second clue.
I got home and cried all night, and Ian made me Moscow mules to drown my sadness. I knew it was a good thing that one of the kittens had gotten adopted out, but I felt in the back of my mind like I'd failed him somehow. I decided we were going to keep the girl kitten because I couldn't bear going through that again. I wasn't being rational.
That should've been my third clue.
But the next day the man called and said his dog had urinated in protest all over his house—twice—and he was bringing the kitten back. I was filled with relief.
That should've been the clue that smacked me in my delusional face.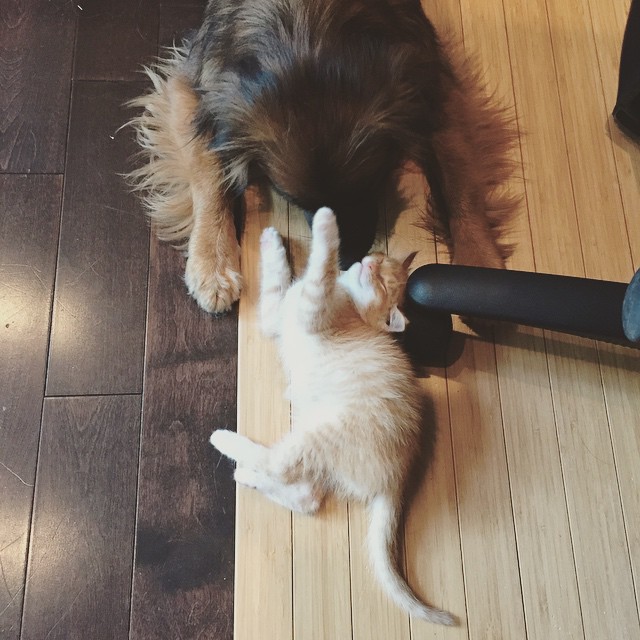 My neighbor asked if I wanted to hit the pet supply store again, but I declined. A friend/co-worker and his 16-year-old daughter were looking for a kitten, and he told me they'd adopt one. I knew they were good to their pets and would be good to the kitten, so I invited them to come visit me for the day and choose one.
I expected they'd pick the boy, since he'd previously been the more outgoing, friendly and not-scared-of-anything kitten, but while they were here Rafi hid almost the entire time. Instead it was Jane (who we'd nicknamed Scorpion Princess because of the way she folded her tail over her back when excited), historically skittish and unfriendly except with King Boo, who captured their attention. She played excitedly with my friend's daughter and inspected their puppy (from afar) and showed no fear. It's one of the few times I've actually seen an animal choose its owner. So while I knew I'd miss her, I knew she was going to the right place.
As soon as they left with her I cried, but then I saw King Boo grooming Rafi. And later, as the two of them wrestled and ran around the house, I realized I had gotten a kitten for my cat.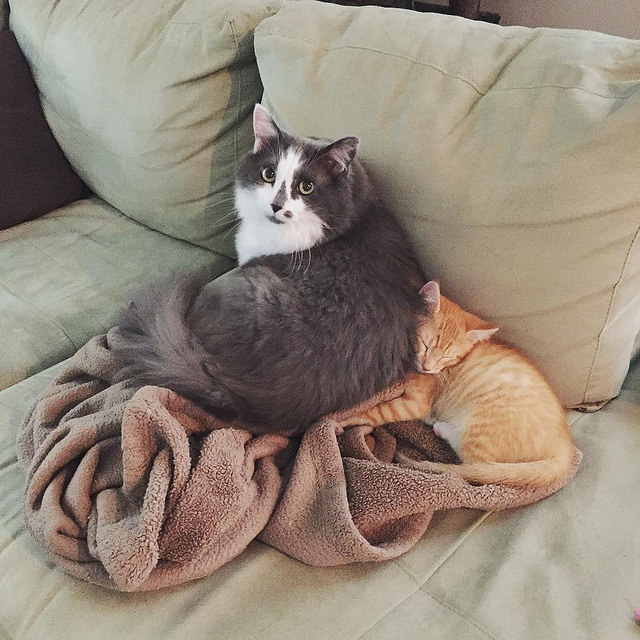 All of the guilt I'd felt with adopting them out was tied into how much King Boo loved having them around. We'd started calling him Papa Boo because of the way he'd supervise their play time, and then jump in to diffuse things and lick their fur back into place. The whole time we were fostering we joked that Jane was his girlfriend, but now that she's gone he snuggles with Rafi just as much. They sleep together in the bed each night, they nap in my desk chair together every afternoon and they wrestle the shit out of each other at least five times a day.
Despite all of the attention he paid to me, I think I'd been trying to push Rafi away a bit because he was a male orange tabby and I didn't want it to seem like I was trying to replace Gordo. But as the vet told me the other day when I took him in for shots and they knowingly chuckled at my first foster failure, you can never replace a pet. And not keeping Rafi because he is the same color as Gordo, even though he'd endeared himself to everyone in the family including Stella, wouldn't be fair to him.
So here we are, a three-cat family again. I'm slightly annoyed with myself for thinking I could foster so easily, but then I see how happy King Boo is to have a cat friend again and I figure it'll work out OK.