I'm not sure how long you're supposed to grieve for a pet, but right now I feel like my grief is never going to end. I went out with friends last night and had a good time and I thought oh cool, maybe I'm feeling OK now. But then I woke up this morning and as soon as Ian and Stella left I started crying and I really haven't stopped.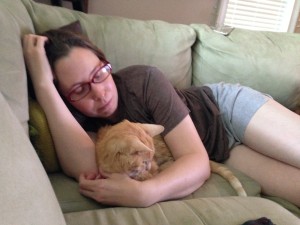 I know, deep down, that it was the right thing to do. The right time. Gordo hadn't eaten any food since at least Thursday, and he would barely eat the few cat treats I set in front of him Friday and Saturday. Sunday afternoon he laid with me on the couch for a bit, but I could tell he wasn't very comfortable. That night I put him up in the bed and instead of curling up with me he just kind of sat there. I woke up later and he was gone, but then I woke up again and he'd gotten back up there and was laying next to me, but still not cuddling like he usually did. Monday morning, it became obvious it was time.
He could barely walk a few steps without falling over sideways. He still pawed at the shower glass to get in like he'd been doing for the past couple weeks, and he still drank some water from the tiles once he got in, but then he stayed in there for a while just sitting there. When he came out of the bathroom later that morning I put him on his heating pad, but I could tell things weren't right. I spent the morning and early afternoon with him, and then we went to our 1:30 p.m. vet appointment and the vet agreed that it was time to let him go.
So we did.
And then we left the vet's office with an empty cat carrier and came home to a house that now only has two cats. I saw a napkin on the table and realized that I didn't have to worry about it getting shredded. I unwrapped a tampon and for the first time in years didn't have that mouthy orange cat come running, meowing because he loves crinkly paper. I saw the Slanket I'd left on the couch and realized I won't have to put it up anymore so it won't get peed on. Amazon delivered a box of puppy training pads that afternoon, which I'd been using since Gordo hadn't been able to get into the litter box for a few weeks. I saw the handful of medications I'd been putting in his food still sitting on the counter. They're still sitting there.
I can't bring myself to wash the blankets on the couch because his fur is still on them.
The last two nights I've gotten into bed and caught myself waiting for him to climb up on the small step-stool and then to the ottoman, both set up a year or so ago as makeshift stairs to help him climb up to the bed. I don't know how long I'll keep waking up and immediately feeling lonely because he's not curled up with me.
I spent so much energy preparing for the actual end—knowing when it was time and would I make the decision or would I come home to find him already gone?—that I don't think I fully considered what it would feel like without him here. One of my friends mentioned the "horrible dark feeling" of the loss and that's exactly what it is. He was a part of my daily life for 16 years and now he's gone and his absence is so, so loud.