This was a year of big changes, but they were positive and exciting ones. We had a big 2013, too, with moving to Chattanooga and learning our way around a new city in the latter half of the year, and for the most part 2014 still felt very exploratory and adventurous.
But it also felt like we're getting settled here. We're making friends and getting invited to parties, we've got our favorite bars and restaurants pretty much hammered out, and we have a home that we hope to stay in for many years to come. We've gotten most of our things unpacked and we're finally getting around to hanging things on the wall. I drive to Nashville every month for work, but my heart doesn't feel weird when I drive through Murfreesboro anymore. 2014 was a year of starting to really feel at home in this city.
January/February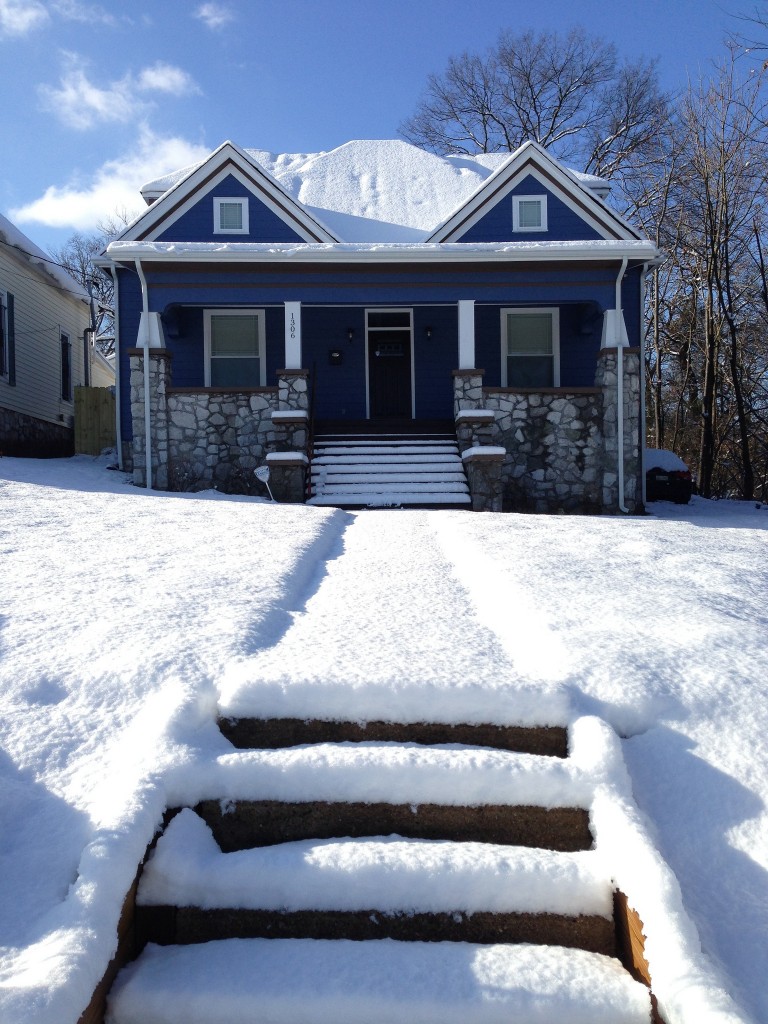 We started the year out by closing on and moving into our cute little house in January, and then we got snowed in—twice (though the big one was in February). It was a pain to move twice in one year, but we love our house and where we're located and don't plan on having to move for a very, very long time. I write love letters to this house in my head all the time, which I think comes from years of waffling on whether to buy a house in Nashville and really learning what we wanted and didn't want. So, hooray for being patient and getting it right.
March
March marks the first time I ever shot a gun. My in-laws took me to a gun range and taught me how to hold one, how to stand, and how to shoot. For most people this sounds simple and silly, but I grew up in a place where only bad people (and cops) had guns and have always had kind of a phobia of them. I decided that 2014 would be the year I got over that, and had a great first experience shooting in a totally empty range where I didn't have to worry about noise around me or what a n00b I looked like.
April
April brought what was arguably a bigger change than buying a house—we adopted Stella! At six months old she was still very much a puppy, and the cats had no idea what to do about her. And, quite honestly, neither did we. She wore us out every day and we quickly realized we had to get her into obedience classes since we'd never trained a dog before.
But man, what a welcome addition she's been to our family. She is the friendliest, funniest dog I've ever met. And she's so good with the cats. Sure, she gets amped up sometimes and will try to chase or play with them, but King Boo keeps her in check and for the most part she's very respectful of them. Gordo will seek her out just to punch her in the face and she just walks away like nothing happened.
We've been taking her to day camp once a week, and she's become the star camper due to her sparkling personality and the way she can get even the shyest of wallflowers to come out of their shells and play. She runs all the dogs ragged, comes home covered in spit and dirt and collapses on the couch, happy as a clam. It's the best $20 I spend every week.
I do still look forward to the days when she's a bit calmer and I can sit in front of the TV for more than 15 minutes without having to get up to let her outside or back inside (or back outside again), but I'm trying to enjoy her puppy energy as much as I can. She certainly made me more active this year; she will never say no to a walk or a hike, no matter the weather outside.
May
In May my mom and I visited Ireland, a trip we'd talked about taking for years. I kept meaning to blog about it after I got back, but I never could put into words how special it was for me. Not just getting to spend time with my mom, who I don't get to see often enough, but being in a country our ancestors came from and seeing so much beautiful history preserved. It was the trip of a lifetime, and I definitely need to get back there to explore other parts of the country we didn't make it to.
June
In June I finally bought a new camera—a Canon 70d—although I'm still working out how to use it and I'm not sure I'm actually happy with it. I probably should have kept saving for a few years and just made the jump into full-frame photography, so we'll see if I keep this sucker around for as long as I did the last one.
We also bought Stella a backback in June and started taking her on hikes just about every weekend in the summer and fall. She gets so excited when she sees that thing, though at this point she's gained some more weight and we're going to need to buy her a new pack pretty soon.
June also marked the time when King Boo stopped kicking Stella's ass every day and started laying next to her on the floor. It was the beginning of their friendship—which is ever-evolving and at times still volatile, but is a constant source of amusement around the house.
July
July was filled with fireworks (and learning Stella isn't afraid of them but isn't exactly a fan, either) and baseball—a very American month, I suppose. We had tickets to seven Lookouts baseball games last season and packed them all in during July and August.
August
In August I visited New York City for the first time ever—alone. I was going for work but went up a few days early to explore the city. I lucked out and got perfect weather, so I traipsed all over the city looking for food and landmarks and I was not disappointed.
September
In September Ian and I cheered on two of our friends who ran the Iron Man, and really enjoyed spectating a ridiculously difficult sporting/fitness event while drinking beer on the street outside.
The month also held our third visit to Music Midtown. Unfortunately they changed the lineup this year so that it featured newer, poppier acts instead of the 90s/rock vibe the festival has had in the past, and I think it will have been our last time at this festival—at least for a while.
October
October was a great month. We celebrated our sixth wedding anniversary with a trip to Puerto Rico, and I swear I find myself at least once a week wishing we were back there. After my friend and her husband helped me figure out how to get Internet on my phone (thanks for nothing, Verizon!), the trip was so relaxing. Ian and I travel so well together, and we don't ever really need a schedule or plan to have a good time. We stumbled into so many great restaurants and bars there, and had a great time just chilling on the beach with some beers (even though the sea stole my sunglasses, that sonofabitch). Ian and I are coming up on 11 years together (holy crap), and I know I am lucky that I get to spend most of my time with someone so perfectly suited for me and my weirdness. He's really my favorite person in the world.
November
November was kind of scary because Gordo got sick, and at the vet we realized he'd lost quite a bit of weight. Although he's been losing it steadily over the past few years, it seems to be a more rapid loss lately and we're really having to keep an eye on him.
But November was also a lot of fun—Ian and I continued to explore Chattanooga's hiking trails and bars, and we hung out with new friends and old. My sister Emily came to visit, too, and we took advantage of the sunny (but cold) weather and did a photoshoot down by the river and took Stella for a hike.
December
And here we are in December. We started out the month at a cabin in Gatlinburg, and though it rained it was a much-needed getaway. I baked a lot of Christmas cookies, and we were back in Murfreesboro and Mt. Juliet to celebrate Christmas with family.
Looking back on the year, it was a really, really good one. I traveled a lot, but we also had lots of friends and family come and stay with us for several weekends. It was a good mix of being at home with the family and getting out and exploring our city—and the world. Even though I know we worked hard for what we have, I feel really lucky to have had the opportunities that I did, the job that I do, and to be surrounded by the people that are in my life.
2015, you've got your work cut out for you.