Recently Tennessee went through a redistricting process, and while I don't fully understand why, I imagine that part of the reason was to confuse things for people who aren't really on top of what district they're in and who they are going to be asked to vote for when they show up at their polling place.
I am pretty Internet-savvy and it took me a good 10-15 minutes of research to find out what House and Senate districts I'm in now and whether I was redistricted into them, and I still can't get a clear consensus on who I'll be voting for in the TN Senate race. The US House is finally clear: I'm in the DesJarlais/Stewart race after being moved from District 6 to District 4. The US Senate seat up for election is Bob Corker's, easy peasy.
In the TN House, I'm still in District 34. Ok, great. If I look at the sample ballot from the Rutherford County election commission, I'm told I can vote for either the incumbent Rick Womick or the challenger Luke Dickerson, and this matches a candidate list that I got from the Tennessee Department of State.
But it all becomes a shit-show when I start looking for information regarding what local Senate race I will be voting in.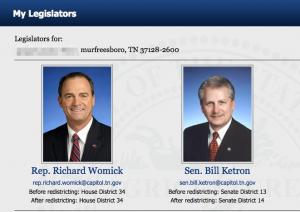 According to the TN General Assembly's website, I am in TN Senate District 14 and Bill Ketron is my senator "after redistricting." The Tennessee Department of State confirms that I'm in District 14, but they give me a PDF of candidates that tells me Jim Tracy is my senator (and is in the race I'll be voting for). The sample ballot I downloaded from the Rutherford County Election Commission also tells me that I'll be voting for Jim Tracy.
So who do I trust? The Rutherford County Election Commission and the TN Department of State seem like two departments I should be able to trust, right? But what about the Tennessee General Assembly? They're the only ones of the three to even mention redistricting, and they say that I'm in Bill Ketron's district. Except I can't find anything that talks about him being in a race (ballotpedia.org and votesmart.org say his seat isn't up until 2014, but they also show him in District 13, not 14 like the Tennessee General Assembly does). And I seem to recall in the past being able to vote for or against Jim Tracy, but I can't figure out if this has changed for sure even after checking three supposedly reputable state election sources.
All of this is made even weirder by the fact that the election is less than a month away and I have not received even one piece of campaign junk mail at my house. The rational part of my brain is happy about this, because it makes my recycling bin lighter. But the conspiracy theorist in me believes this is all just part of a plan to confuse me into not voting since I'm a Democrat in a very, very red state.
I should be able to find reliable, trustworthy information between these three sources, yet I can't. I can honestly say now—after trying to find an answer to my simple question of "What TN House district am I in, and who will I be voting for/against in the election next month?"—that I can see why people don't vote. There is no way something this simple should be this difficult to figure out.
And more importantly, if I can't decide who to trust between the State Department, the General Assembly or the Election Commission, how am I to trust that my vote will even be counted accurately?