Well hell. I have finally decided that lately I've been putting too much money into my slowly dying '99 Pontiac Grand Am and am going to buy a new car.
This time, it's going to be new for real. Not used-but-new-to-me.
What am I going to buy, you ask? This: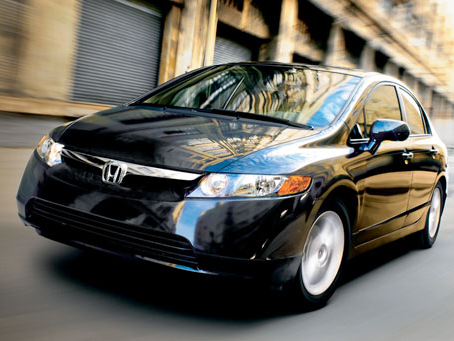 A 2007 Honda Civic EX. (That's the top of the line model… complete with iPod plug, sunroof, etc. It's loaded. And it's going to be mine!!!
I am giving myself 2-3 months to pay off some debt and save up some for a good downpayment, as long as my current vehicle doesn't crap out on me. Right now I need to get brakes, tires and I think some transmission work done, but I'm going to do the minimal to get by.
The best thing I'm looking forward to? Forty miles per gallon, holmes. Goodbye $250 a month gas bill.
Can you tell I'm stoked??
Tags: civic, honda, 2007 Honda Civic