We're about a week and a half into being dog owners, and while it's not exactly getting easier it is getting more familiar. We're learning to communicate better with Stella, and she seems to be figuring us out, too. My biggest concern with getting a dog was how the cats would react, and though I think it's too early to tell exactly how we'll all end up, I am pleased with the progress over the past week.
King Boo started out hot, claws blazing every time he saw her. It seems to have worked, though, as she never chases him and generally steers clear whenever she sees him in her way. A few times she's gotten excited and ran past him a little too closely and he's let her know that's not cool. The biggest issue I'm having is that when she does get too close and he swats and hisses, he doesn't just stop when she moves away. He often goes after her, like he's taken it personally. I don't want to stop him too much because I don't want him to think he's wrong for defending his personal space, but I also don't want the dog to be so scared of him that one day she snaps and hurts him fighting back. I've taken to letting him swat her when he's been encroached upon, and if he continues to follow her all the way across the room to beat her ass some more I'll pick him up and move him somewhere else (telling him he's a good kitty and petting him a lot so he doesn't feel scolded for protecting himself).
It seems to be working, as I am having to do that less and less. And yesterday Stella tried to play with him! She got down low and stuck her front paws out like she does with other dogs, softly barked at him and then rolled on her back, showing him her belly. He looked interested, but as he got closer she rolled back over and I guess it scared him because he hissed and swatted at her. But then later, as she was playing with some of her toys in the living room, he approached her and acted like he was going to chase her leash. But she is still a bit scared of him, so when she saw him approaching she moved away and stopped making eye contact. I'm hoping this is all normal "figuring each other out" behavior that points toward an eventual friendship, because they both would benefit from having a high-energy companion in the house.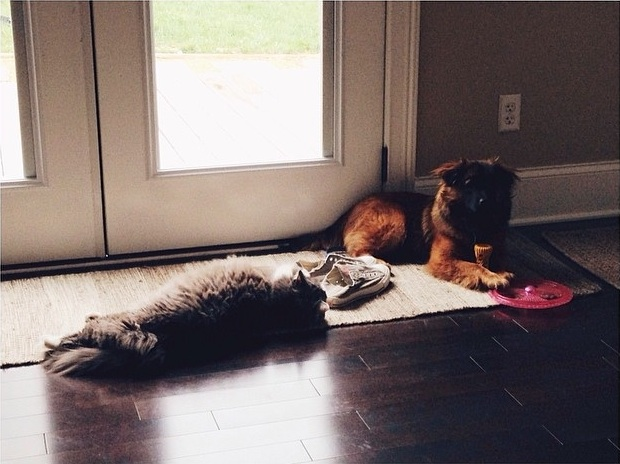 Gordo has figured out that if he runs she'll chase him, so he tends to make his swift exit upstairs as he hears the back door opening, a signal that Stella is coming back inside. Once she's safely occupied with a treat or a toy, he makes his way back downstairs and is content to sit in his spot on the couch and watch her. She leaves him alone now for the most part—as long as he's sitting still she really doesn't care much about him.
BK is another story. I don't think Stella knows she exists. I mean, ok, I know she realizes there's another cat in the house, but she spends so much time up in her 6-foot-tall cat tree that they've hardly had any interaction. When Stella is in her crate, BK comes down and hangs out. When Stella is out of her crate, BK is up high, either watching her or sleeping. She's spent a ton of time in that cat tree since we got it so I'm not really surprised that's still her place of refuge, but I am a bit surprised that she's not more curious about the dog. She's so big—and has never been one to shy away from swatting or hissing something she doesn't like—that I figured she'd be the one to whip Stella into shape, not King Boo (who had previously been afraid of his own shadow). I guess she figures she's just above it all.
The dynamics in this house have been so interesting to watch after just a week. I can already see how Stella reacts differently to Ian (PLAY TIME!) than she does to me (rule-enforcer/food source/safety from King Boo), and I imagine her relationships with all of us in the house will evolve as she gets older and more settled in here.
For now, though, we are continuing to work on crate-training and house-breaking. And leash-training, god help us all. We start obedience classes next week, and I cannot wait.