Stella has been calming down some, at least during the day, which means that she isn't having to be crated all day long while I'm working. (For those not familiar with my situation: I work from home, but I had been crating her because it is impossible to work and monitor a puppy's every move.)
Lately she's been putting herself in her crate after our morning walks, but since she puts herself in there I leave the door open and she mostly just naps until around lunchtime. In the afternoon she gets a bit restless, but I only put her back in her crate now if she does the whole inside/outside/inside/outside thing too frequently. She doesn't quite understand yet that mama has to work and can't be interrupted every five minutes to let her out or in.
But while she had been crated the whole time I was working with a break every couple hours, she's now only being crated maybe half the day, if even that. She loves her crate, though, which makes me feel like we've done the crate-training thing right.
Last weekend my mom came to visit, and as soon as she left (like, within hours) we noticed BK hanging out on the dining room table while Stella was out in the living room. And then later she sat on the coffee table in the living room and the two of them touched noses.
This doesn't sound like much, but ever since we adopted Stella, BK has confined herself to her 7-foot-tall cat tree or one of the spare bedrooms upstairs. Up until last weekend she made sure that the only time she was on the main floor of the house and out of her cat tree was when Stella was safely contained in her crate.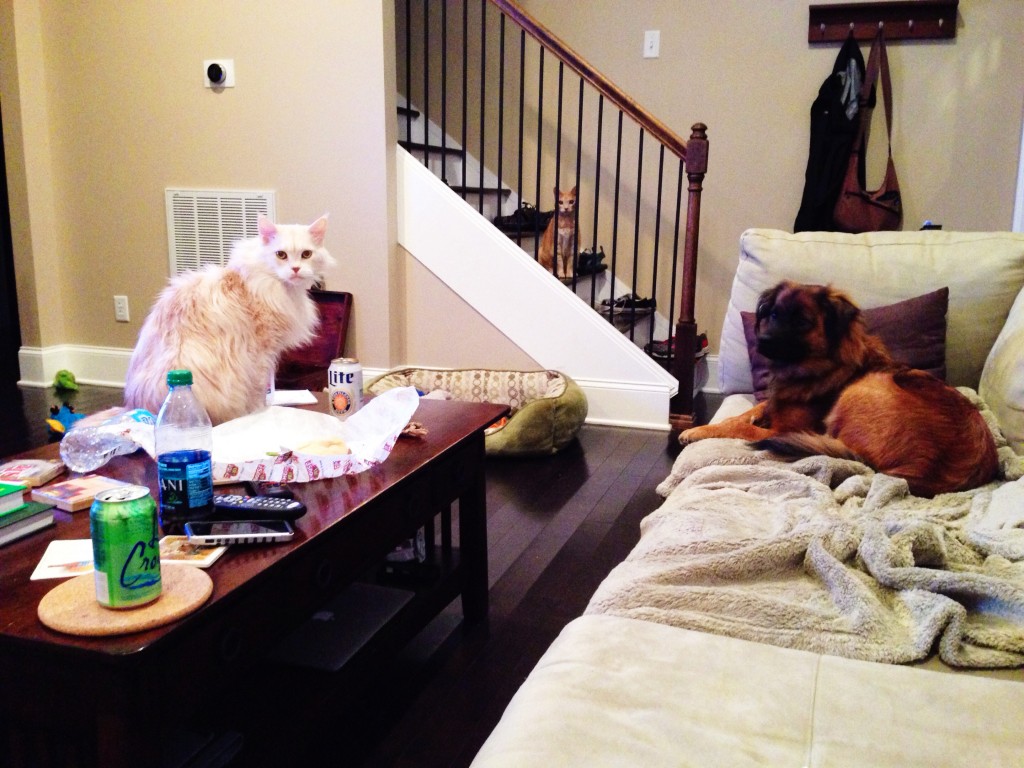 But ever since last weekend, BK has been spending more and more time out and about while Stella's roamed free. There have been several instances where BK has been sitting on the coffee table in the living room and Stella has walked up, smelled her face and then walked away without incident. Every once in a while BK will meow when she sees Stella walking near her, but Stella hasn't chased or provoked her and BK hasn't swatted at her. And that actually surprises me, since Gordo punches her in the face every time she's within arm's reach of him.
I have no idea what changed. It's like all of a sudden BK remembered she's this giant, majestic cat who rules the house. And without any fanfare, she returned to us.
I'm not going to question it, though I do continue to marvel at how each cat interacts differently with Stella.